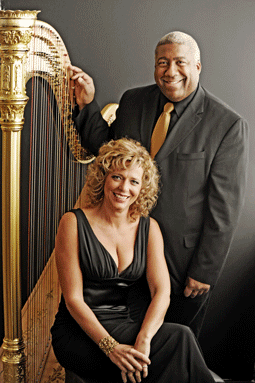 Harp & Heels is the Dynamic team of harpist Calvin Stokes and soprano Laura Pedersen. They consistently tease and test each others musical boundaries, resulting in a whimsically diverse repertoire that includes, not only their classical foundation, but also Jazz, Country, Broadway and Pop. In addition, they present beloved classics in new and innovative ways without changing the essential core of what made them timeless.
These international competition winners are classically-trained and have many classical performances to their credit. These credits include soloing with not only top orchestras, but also at Carnegie Hall and in internationally-acclaimed opera houses. Of course, they have countless concerts and recitals individually, with piano, as a duo, with orchestra and even jazz combos. These two versatile world-class musicians are seasoned, yet down-to-Earth entertainers who can effortlessly present to any group, in any venue. Be it a traditional recital, a sacred evening of holiday joy, or just an evening of whatever "beautiful music" means to you, this duo can tailor their repertoire to meet your needs. With the option of adding a bassist and drummer, the possibilities are endless.
Initially, you'll book Harp & Heels for their first-rate music. You'll rebook Harp & Heels again and again for their ability to tailor their performance to your specific audience bringing pure fun and joy with their personalities, banter, and musical selections. Book early and book often...you'll be glad you did!
Want to see a sample? Click the menu above or the image below: